Cheesy Cauliflower Mash
10 May 2021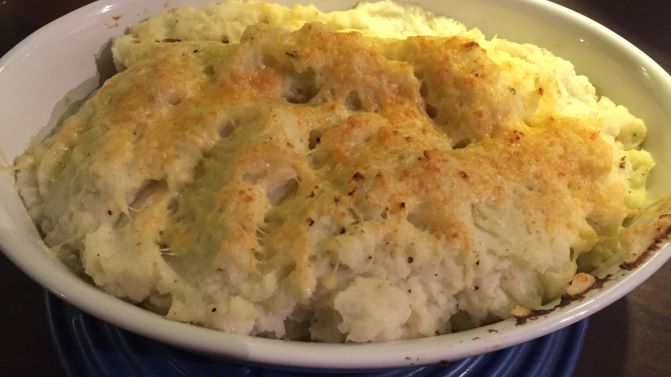 Cheesy Cauliflower Mash
The humble cauliflower is a hero veg which is popping up on the menus of discerning restaurants up and down the country. Supercharged with vitamins and minerals and with less than 3g of carbs per 100g, cauliflower provides a perfect alternative to many starchy foodstuffs that can cause blood sugar spikes and bloating, such as potatoes and rice.
Use this delicious and creamy cheesy mash as a side with your favourite meat or veggie sausages, or as a topping for cottage pie, shepherd's pie or fish pie.
Ingredients
1 head cauliflower
large knob of butter/ tbsp cream cheese / ½ ripe avocado
Salt & Pepper
Grated hard cheese e.g. cheddar
Method
Remove leaves and base of stalk. Chop cauliflower (including stalk) into chunks.
Boil/steam cauliflower chunks until soft.
Drain and add back to the hot pan. Stir on the hob for a few minutes to evaporate some of the moisture.
Add your choice of butter/ cream cheese/ avocado. Season well with salt and pepper.
Blend with stick blender or mash with a hand masher until smooth.
Spoon mash into a shallow oven-proof dish, top with enough grated cheese to cover, and grill until bubbling and golden brown.
Tips: Make extra and freeze portions for a tasty side dish in minutes.
Enjoy!