Sweet Potato & Egg Bake
21 Jan 2021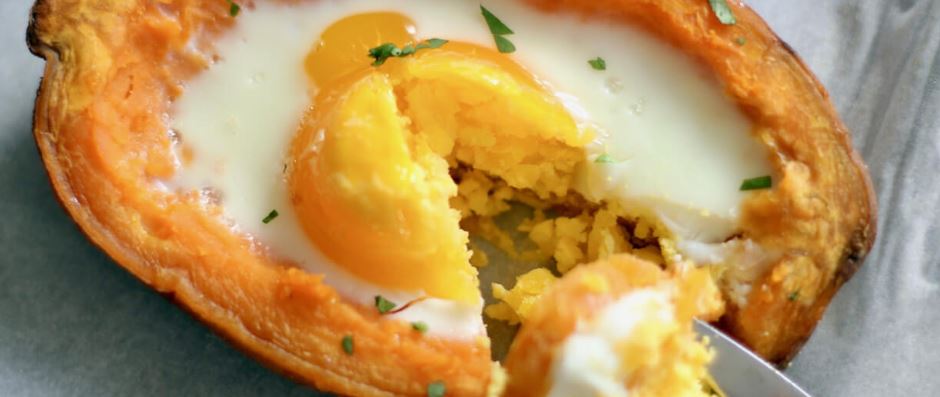 Sweet Potato & Egg Bake
Sweet potatoes are a tasty orange-coloured starchy root vegetable. Whilst they contain a similar amount of starch to a white potato, and are therefore better enjoyed as a treat once or twice a week rather than daily, they do contain healthy fibre plus high levels of plant nutrients called carotenoids. Carotenoids can be converted to vitamin A in the body and adequate vitamin A is essential for many important functions including our eyesight, skin health and immune system. These tasty sweet potato and egg bakes are a double source of this important nutrient since you benefit from the carotenoids in the potato and the vitamin A directly from the egg. Additionally the egg provides a source of healthy fat which is needed to assist your gut with the absorption of the carotenoids from the sweet potato.
Time: 45 mins
Ingredients: 1-2 servings
1 sweet potato (large enough to hold an egg)
Extra Virgin Olive Oil
2 eggs
Salt & Pepper
Grated cheese (optional)
Chopped fresh chives (optional)
Instructions:
Preheat oven to 220ºC and line a baking sheet with parchment paper.
Wash then slice the sweet potatoes in half lengthwise and brush with olive oil. Bake face-down on the baking sheet for 30 minutes or until tender.
Once tender, remove the sweet potato from the oven and let cool enough to handle. Use a spoon to scoop out some flesh from each half of the sweet potato to make room for the egg.
(Note: You can use the sweet potato you remove later, as a side dish or in smoothies.)
Crack an egg into each well you created in the sweet potato halves, top with grated cheese (if using) and return to the oven for 10 to 15 minutes. Cooking time will depend on how runny you like your eggs.
Remove from oven, top with chopped chives (if using) and enjoy!
Tips:
The potatoes can be pre-baked and stored for a few days in a container in the fridge ready to add the egg and quickly bake for a quick warm lunch when time is short! I suggest serving them on a large bed of green leaves. Alternatively, once baked with the egg, you could allow to cool and eat them later as a snack.
For a bit of spice, why not experiment with adding ground paprika/ smoked paprika or chilli flakes before baking with the egg?